What To Do First
Drunk driving arrests occur in California under different circumstances. A driver may be arrested for driving under the influence of alcohol or drugs (DUI) while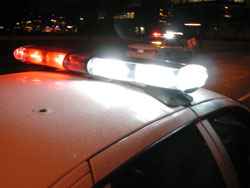 driving home after having had a few drinks at an office party. A driver may swerve while using a cell phone, be pulled over by a California Highway Patrol or local police officer, who may then smell the odor of an alcoholic beverage on the driver's breath. A minor or serious accident may have occurred, followed by a DUI investigation, may also result in an arrest for driving under the influence.
Getting arrested for drunk driving in California is a serious event. The most pressing concerns for a driver accused of a California DUI are locating a qualified California DUI defense lawyer, contacting a bail bond agent to secure the driver's release from jail, and taking quick action with the California DMV to protect a accused's driving privileges.
Locating someone arrested for a DUI in California can be challenging without knowing where to look. When looking for someone arrested for driving under the influence in the California, it helps to have the driver's name, driver's license number, and date of birth.
Call (415) 552-6000
for a Free Consultation
Our San Francisco law office provides free consultations.
Attorneys for the firm represent clients accused of driving under the influence of alcohol or driving with a blood alcohol level at or above the legal limit in San Francisco, San Mateo, Marin, Alameda, Santa Clara, Contra Costa, Sonoma and Napa counties.
Feel Free to Contact Our Office Today!
Although many drivers arrested in California for DUI are released on their own recognizance, some will not leave jail until they or a loved one posts bail. Finding a California bail bond provider is the first step in getting a DUI driver released from jail if bail is required. The typical fee for bail is 10 percent of the driver's bail amount. The attorneys at this office have established relationships with bail providers and may be able to arrange a discount on behalf of a client.
After the driver is released from jail, it's time to address the legal issues that accompany a California DUI arrest. In actuality, driving under the influence cases are really two different cases - a California DMV case and a California criminal court case. Those accused of drunk driving in California have only 10 days from the date of the arrest - including weekends and holidays - to request a California DMV hearing, or their license to drive will be automatically suspended for a minimum of four (4) months.
As in any California criminal case, including a California DUI case, the person must be arraigned. At arraignment, the driver must enter a plea of guilty or not guilty. Although no one likes the idea of being on trial, there are many compelling reasons to fight a drunk driving charge in court. Although many people believe that a California DUI arrest results in an automatic conviction, that's simply not true. It's possible to win a drunk driving case in California with the help of experienced California DUI lawyers.
Both the California DMV hearing and the California DUI criminal court case stemming from a drunk driving arrest can be successfully challenged, but the process is complex, takes time, and the cost of winning or losing can be very high. An experienced California DUI defense lawyer can develop an aggressive strategy to challenge both the DUI criminal court case and the California DMV license suspension action.
Home > Bay Area DUI > What To Do First